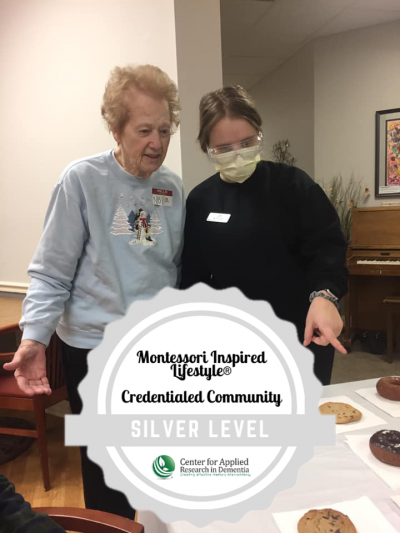 Even with April Fools' this month, we wouldn't fool you about all the great stuff we have planned. We've got celebrations for Easter and lots of fun as the weather warms up, especially in the garden.
But that doesn't mean we didn't have a fabulous March. We celebrated St. Patrick's Day right with good beer, good food, and good friends. We also had a visit from some animal friends, including one of our favorites, Vern the Turtle! And as usual, we all helped make our community a better place by cleaning up, organizing, doing activities together, and being great neighbors.
Speaking of being great neighbors, Earth Day is April 22nd. Now is an important time to think about the future of our community and the future of our loved ones. Read on for more ways you can be a good citizen this Earth Day.
Happy Birthday to Our Residents!
| | |
| --- | --- |
| Kathy – April 3rd | Joyce – April 25th |
| Maxine – April 8th | Darlene L. – April 27th |
| Jerilyn – April 12th | Pat N. – April 30th |
| Gwen – April 14th | |
| | |
| --- | --- |
| Meg – April 3rd  | Sejla – April 17th |
| Sabine – April 4th  | Bendu D. – April 21st |
| Marie-Therese – April 16th | Roseline – April 26th |
| Facia – April 17th | |
"There are no passengers on spaceship earth. We are all crew."
– Anonymous
Adopt A New Friend
We foster cats through the Hope Animal Rescue.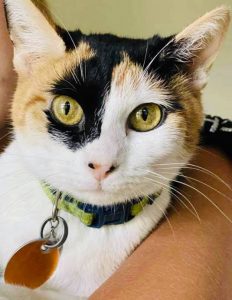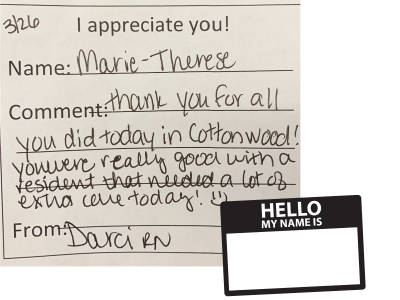 Fair weather is coming soon – We are more than happy to help you open the doors to the courtyards for visits. Remember to take a jacket, blanket and hat for your community member and find a sunny spot! It's important to stay safe while taking in all nature has to offer.
Disposable nametags are available in the front entry, and at the reception desk – Nametags are a cognitive ramp for everyone, including those living with dementia. Write large and clearly for the most benefit. Thank you for working on this the past couple of months, everyone. You make a difference.
Consider leaving a compliment or thank you for staff with a "Staff Shout-Out" on the front bulletin board  – The form and pens are provided. Share positive feedback on the things you appreciate.
April 22nd is Earth Day! And what better time to take a moment to reflect on the world around you. Sometimes, the troubles the environment faces can seem overwhelming. But even the smallest action can have a tremendous impact.
In honor of this important holiday, we'd like to share a few ways you can help the earth in your everyday life here at Arbor Springs. These simple tips are also suitable for you and your loved ones to do together. And, as always, they've got a little Montessori twist to boot –
Clean up – in the Montessori Method, we focus a lot on your environment. This includes the outside world around us. So take a moment to pick up trash or garbage you see as well as recycle and properly dispose of waste when you can.
Get crafty – we do a lot of crafts. Try doing one from recycled/reused materials, and try using sustainable or earth-friendly materials when making new crafts.
Get outside – what's the point in helping the earth if you can't enjoy it!? So remember to take a step outside whenever possible and breathe in some fresh air, especially now that it's warmer outside!
Don't be fooled! We've got a lot of great activities coming up this month, and we'd love for you to join in! So check out our Activity Calendar and stay tuned as there is always something new and exciting happening in our community!
Resident Engagement Highlights:
April Fools' Mad-Libs in the Café
Walk & Roll to 'The Brew'
Baseball Tailgate in the Café
Exercise to Elvis!
Egg-Dying in the Café
Sip & Paint in the Café
Armchair Travels to Amsterdam
Pretzel Party in the Café
Garden Bed Clean Up
Potting Herbs with Botanical Garden
Music & Massage with Jeanne
Piano Music with Helene

The Montessori Focus is to help staff and residents work on activities of daily living together. Residents thrive when able to assist in caring for themselves and others.