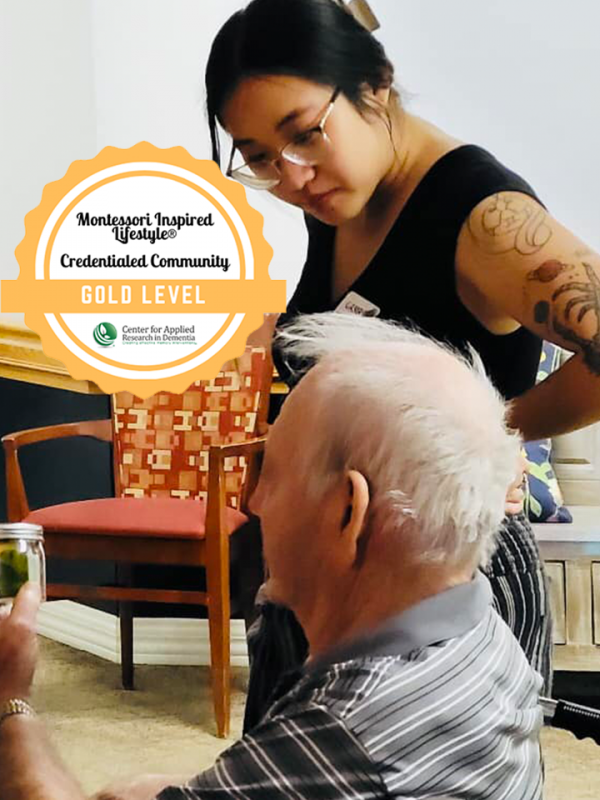 As we say hello to August, let's remember we had a pretty great time in July! It's always wonderful to come together and celebrate special occasions with friends and family. And the Fourth of July was no exception! We had a blast celebrating the Fourth with all of you.
July was much more than our country's birthday. We also celebrated another anniversary…the moon landing. Fifty-four years ago, on July 20, we landed on the moon. Residents took some time to remember this momentous event in human history. And we enjoyed some Moon Pies. Yum.
With the help of Lutheran Church of Hope volunteers and the hard-working staff here at Arbor Springs, we came together as a community in our cafe for hymns, fellowship, and even some furry friends. As always, we practiced our Montessori principles – #1 Activity should have a sense of purpose & capture interest, and #2 Invite the person to participate.
We also managed to keep cool with the help of Suncrest Home Health & Hospice. They were nice enough to send an ice cream truck our way for a cold treat!
Happy Birthday to Our Residents
| | |
| --- | --- |
| Sharon H. – August 5th | Ardella – August 11th |
| Ken P. – August 9th | Tim – August 17th |
| | |
| --- | --- |
| Bendu – August 14th | Stella O. – August 1st |
| Enisa – August 30th | Steve – August 10th |
| Melvin – August 10th | Veronica –  August 12th |
| Shannon – August 5th | |
| | |
| --- | --- |
| Dawn – Aug 19th (one year) | Sejla – Aug 3rd (8 years!!) |
| Keira – Aug 2nd (one year) | Sergio – Aug 23rd (2 years) |
| Kenia – Aug 15th (one year) | Steve – Aug 4th (8 years!!) |
| Marie-Therese – Aug 26th (15 years!!) | Vanessa – Aug 20th (10 years!!) |
| Marthaline – (3 years) | |
The short summer night.
The dream and real
Are same things.
– Takahama Kyoshi
Adopt A New Friend
We foster cats through the Hope Animal Rescue.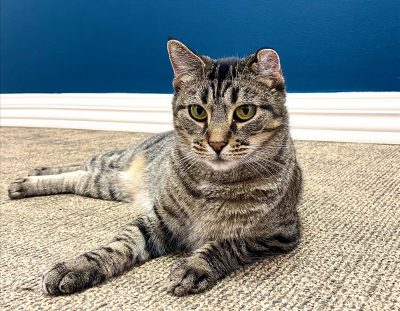 A Montessori Activity for the Month
It's hot out there! And we've got to remember to stay cool and watch for signs of being overheated. One way to beat the heat is to wear a hat. And if you're going to wear a hat, why not wear one with some style! Check out how you can create your own fashion statement…
MATERIALS
A hat. Visor hats made of craft foam, cotton baseball caps, and fisherman hats can be found in the craft store ready to be decorated.
Decorations for your hat. Self-adhesive shapes made from craft foam, flowers, rhinestones, team logos, or whatever the person finds interesting.
Glue and a brush. Use glue that is non- toxic and will work on fabric or craft foam. Provide a thick- handled brush to apply the glue, for easier gripping.
A plastic dish (to pour your glue into).
SETUP
Pour some glue into the dish near the participant's dominant hand.
Place your brush in the glue and place the hat directly in front of the participant.
Put decoration items in front of them so they can see the different options. Five to seven items are best to try at first, then add more or take some away depending on the participant.
INSTRUCTIONS
Demonstrate. This is a three-step process:

dip the brush in glue
dab the glue on the chosen spot on the hat
put the decoration item on the glued area

After demonstrating, allow your family member to proceed with the project. Provide guidance as needed, but allow them to make this hat their own. Whatever they create is perfectly acceptable. There is no right or wrong way to decorate something.
Help them remember what they have created so they can feel that sense of pride again and again. One way is to write on the inside of the hat, "Made Together By … ".
Remember to watch for signs of too much heat
Seek help if you experience any of these symptoms. Heat exhaustion can manifest in many ways, so these are just a few. Be sure to listen to your nurse, loved ones, and Arbor staff. We're here to help!
| | | |
| --- | --- | --- |
| Headache | Nausea | Extreme thirst |
| Dizziness | Dehydration | Excessive sweating |
| Muscle cramps | Weakness | Clammy skin |
This month we've got all sorts of fun activities planned. We've also got a lot of outings to go on, giving everyone the opportunity to enjoy the summer. And, of course, we also have some food-centric activities. Tasty!
Resident Engagement Highlights:
Chocolate Chip Social
Sunflower Art in Neighborhoods
Folk Heros and Songs in Neighborhood
Farmers' Market
S'mores Social in Courtyard
Outing: Perkins
Scavenger Hunt on Main Street
Outing: Art Center
Waffle Taste Testing
Scenic Drive: Waterworks
Galaxy Jar Craft
Montessori Inspired Lifestyle© Pledge
I will work to create a place where I would want to live.
I will remember that I am a guest in the home of my residents.
I will treat everyone I meet with respect, dignity, and equality.
I will remember that I must earn the trust of my residents and that they must learn to trust me.
I will apply the Montessori principles in everything that I do.
I will treat everyone I meet the way I wish to be treated.