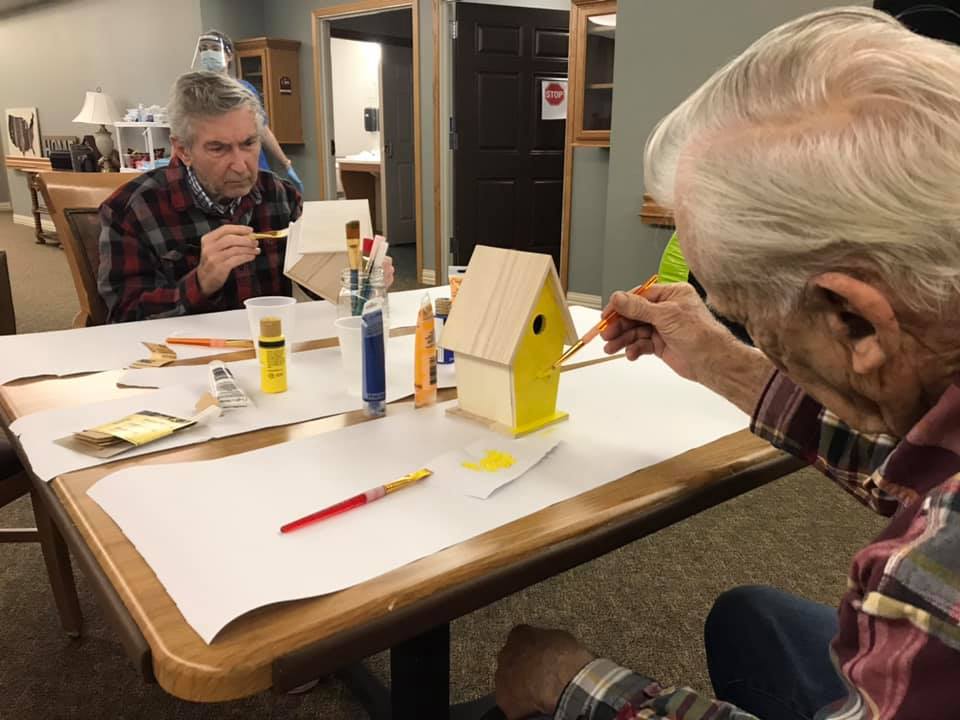 Building New Homes For Some New Friends
It is so exciting we were able to see our friends and family again! Our outdoor visits created a wonderful opportunity to finally see some of those close to us. However, we've had to pause the outdoor visits for now. We were grateful for each day, knowing that it may need to stop if anything adverse regarding COVID-19 arose. On behalf of Arbor Springs, I want to express how thankful we are for everyone's flexibility, support, and understanding as we keep moving forward each day!
We've also been buying birdseed like crazy this year and finally put some quality, finishing touches on a few new birdhouses this month. Everyone really outdid themselves with these, and we can't wait to see all the new friends they bring!
"Just don't give up trying to do what you really want to do. Where there is love and inspiration, I don't think you can go wrong."
– Ella Fitzgerald
Adopt A New Friend
We foster cats through the Hope Animal Rescue.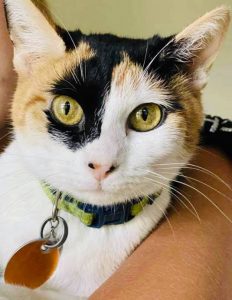 Stay Cool As Summer's Ending!

Being outside may be the best way to keep socially distant, but the heat can be a lot for anyone.
Here are our tips to stay safe while having fun in the sun:
Drink Water –

be sure to drink a little extra before and after you are in the sun, as well as when you are outdoors.

Have Some Cool Snacks –

keep things like popsicles, fruits, and cold juices handy for a quick refreshing treat to lower body temperature.

Protect Your Eyes

– wear hats, sunglass, and anything else to protect your eyes from direct and indirect sun.

Wear Sunscreen –

make sure not only to put on sunscreen but also to reapply often.

Stay In The Shade –

don't sit in direct sun and take breaks in the shade whenever possible.

Wear Layers And Keep Clothing Type In Mind –

avoid hot clothes and make sure everyone wears layers that can be taken off.

Check-in With Your Loved One –

remember to check-in and ask how everyone is doing. Always look for signs of exhaustion and dehydration.
So once again, we are still taking it easy and playing it safe. We long for the day when we can all hang out, and visitors can come and go, like they used to! But, for now, let's focus on the positive we've got going on. As long as we keep up the excellent teamwork, we will be able to see more and more of the folks we love and do more of the things we've missed so much.
Some Ways We Stay Active and Engaged:
Flower Gardening: Hanging baskets with annuals, we dead-head and water.
1:1 Activities
Gardening: We are nearing the end of our growing season. Tomatoes are still going strong! Be sure to check out the blog on our website as we share our experience and advice for purposeful gardening while living with dementia.
Singing & Dancing
Restorative Therapy
Baking
Margaritas on the patio
Reading
Music
Reading & Writing Letters
Manicures, Makeovers, & Hairstyling: The Barber / Beauty Shop is open again! We have missed Brenda the past 5 months. She helps us feel so good by getting everyone in for an appointment
Residents Taking Care of the Babies in Evergreen & Birch
Special Announcement: We are preparing for our Annual Art Show! It will be the evening of Oct 6th at Sweetwaters Coffee & Tea down the street from us. It will be resident-focused, and resident-created artwork. Stay-tuned as we finalize details. (Things seem to change often these days!?)
And as always, we are having great conversations together!
Physical Therapy, Occupational Therapy, and Speech Therapy are also still taking place. Please ask a staff member if you have any questions regarding this.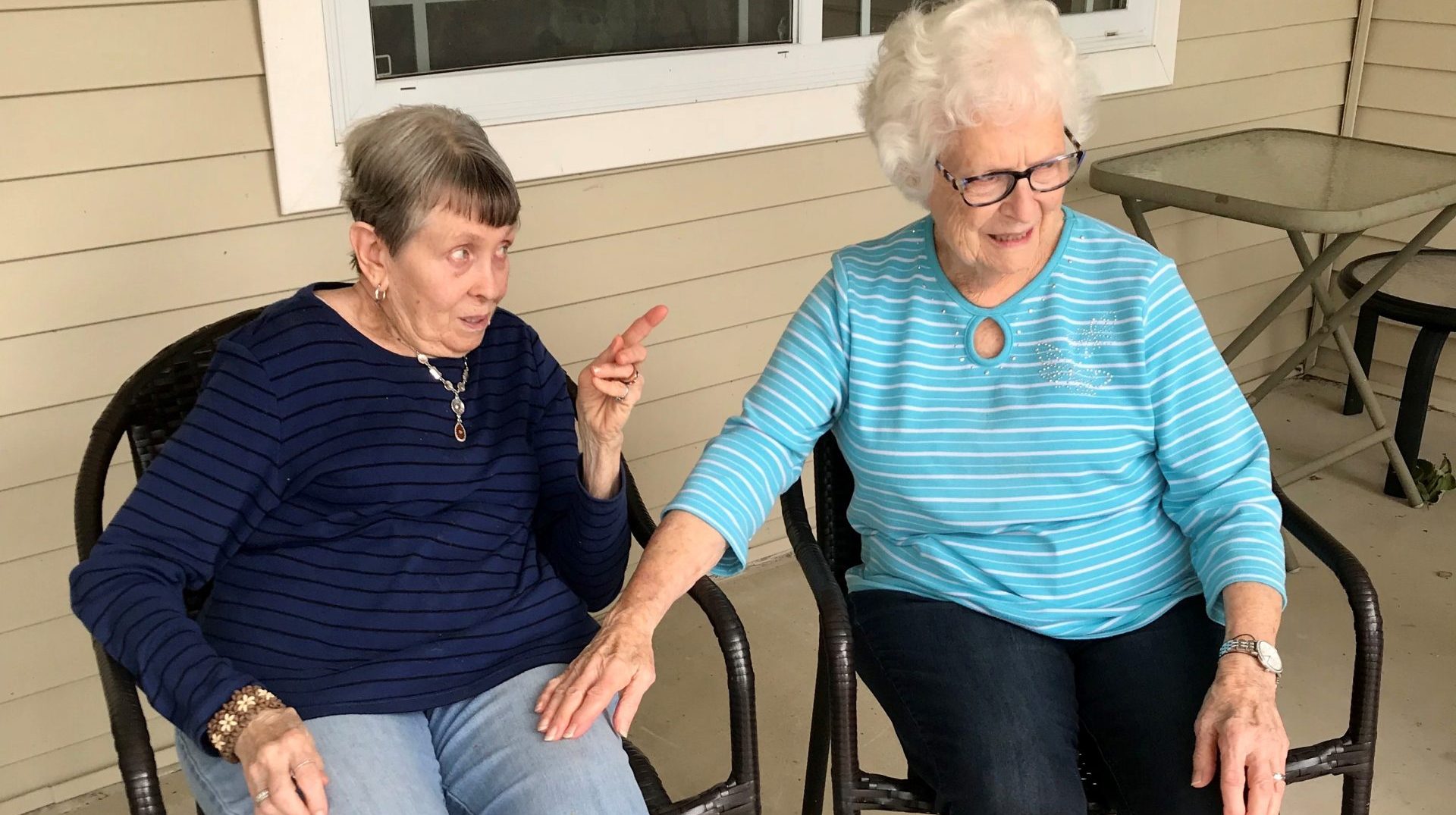 What's Going On This Month
September has some important days. Make sure that even if you are accustomed to celebrating these days a certain way, don't forget to consider how to modify your traditions to stay safe. Especially when you are celebrating with multiple generations in your family, is it essential to be extra cautious. Oh, and make sure you don't forget Grandparents Day…that might be our favorite of the celebrations this month!!
Labor Day – September 7th
Currently, we are having a national conversation and many personal deliberations about our work lives. In our community at Arbor Springs, we know that work, and feeling purposeful, is central to the identity of many of our residents. While maintaining resident rights, we are still developing a framework in which residents volunteer to help with day-to-day operations around here. This is part of our Montessori-Inspired Living initiative, and it makes a positive impact on a resident's perception of self, and their environment.
Grandparents Day – September 13th
We think we might know a few Grandparents that could use an extra special shout out today! Make sure to wish your Grandparent a happy Grandparents Day and maybe send them an extra special package to celebrate some of our favorite and most extraordinary people on this day!
Online Learning Day – September 15th
With the global health crisis, we are all spending a little more time indoors. Remember, there are great ways to keep busy and stretch your mind online. We are big fans of online learning and all its benefits. Check out our writing series and other newsletters for some of our favorite ways to work your brain on the web.
Rosh Hashanah – September 18th to 20th
This day is the Jewish New Year, and a significant Jewish holiday. It is a two-day celebration and is the beginning of a ten-day celebration that ends with the next holiday we are highlighting…
Yom Kippur – September 27th to 28th
Today is the Day of Atonement for those of the Jewish faith. It is a time to atone for the sins of the last year and is an incredibly sacred holiday.
World Alzheimer's Month
We did a lot to raise awareness last month with The Longest Day. Continuing the work with this celebration is a good reminder that combating Alzheimer's and supporting research into prevention and treatment is a lifelong battle we are all fighting together.
Hispanic Heritage Month
This is an excellent month to celebrate the rich and deep history of Hispanic people in the United States. While this is an international holiday, try to find a way to celebrate with your own community and family. Read a bit about the Hispanic history of America, listen to cultural music, or even just eat some traditional cuisine.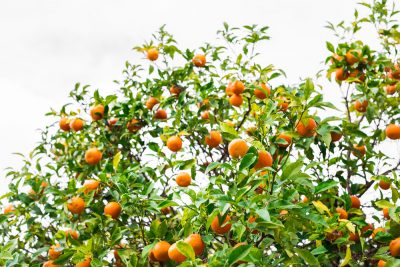 While we are committed to supporting our community, we know the best thing for it at the moment is for everyone to be as safe and cautious as possible. During this time, we encourage you to seek out and contribute to an active support group. Often it's best to just try it, and see how it goes. Folks can be surprised by how much their ideas and their presence are beneficial to others. Helping others right now is a wonderful remedy for the helplessness and loneliness we ourselves may feel.
Below is some information about how you can find the help and community you need while respecting the COVID-19 safety concerns.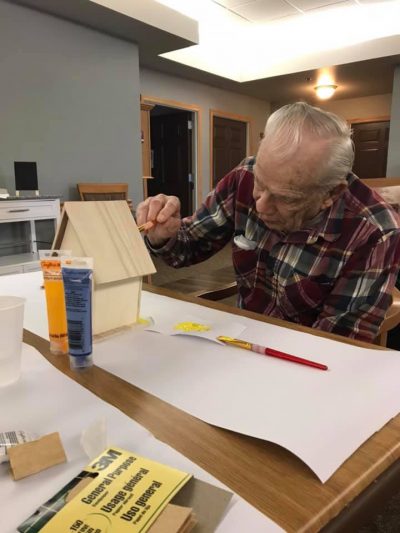 We know that there can be many benefits to Montessori-Based Dementia Care. But what exactly is Montessori-Inspired Living and the Montessori Method? Well, let's start with the Montessori Method!
Our newsletter will feature more about Montessori, its origins, and how it impacts your life today in the coming months. I will also be writing more in-depth posts on this subject for our online writing series. So if you'd like to know more, check out our website in the weeks to come.
First of all, let's go all the way to the beginning…who was Maria Montessori?
Maria Montessori was an Italian physician and educator whose interest in medicine started her on an ambitious and important journey at a young age. She practiced and studied medicine, working with children with varying cognitive abilities and those who were not accepted by the mainstream educational system at the time.
Montessori always emphasized respect, dignity and equality for all human beings. Also, key components she developed in her schools can make a big difference for residents living with dementia. Such as having an active role in their environment and providing a "proper environment" for individuals to be successful. Under the guidance of the Center for Applied Research in Dementia, Arbor Springs works to provide this purposeful, engaging environment on a regular basis. Check back in our October issue to learn more about how we accomplish this.
COVID – 19: REMEMBER TO STAY SAFE
We know this time is difficult.
We are all in this together…and we are here for you!
Please call the facility directly at 515-223-1135 with questions or concerns.
WASH YOUR HANDS AND LIMIT CONTACT PLEASE!
Happy Birthday! Let's Celebrate Together!
Alycia S. – September 6th

Madelynn R. – September 7th

Tyneesha F. – September 7th

Colin M. – September 10th

Jeanet K. – September 10th

Janely Q. – September 17th

Astrid R. – September 21st

Feliza M. – September 21st

Glenda M. – September 21st

Merceline K. – September 23rd

Beckee F. – September 28th

Michael W. – September 29th

Eldon M. – September 30th
As we start to get back to normal, we would like to take a moment to say one very important thing…
Thank You
Thank you for all of the hard work and perseverance through this difficult time. We couldn't have done it without all of you, our amazing staff members and our greater care team!
The guidelines on this page and in this newsletter are in no way all-encompassing and should not be adhered to if medical professionals or staff members inform you otherwise. We are learning more about COVID-19 every day, so be sure to stay informed at: https://www.cdc.gov/coronavirus