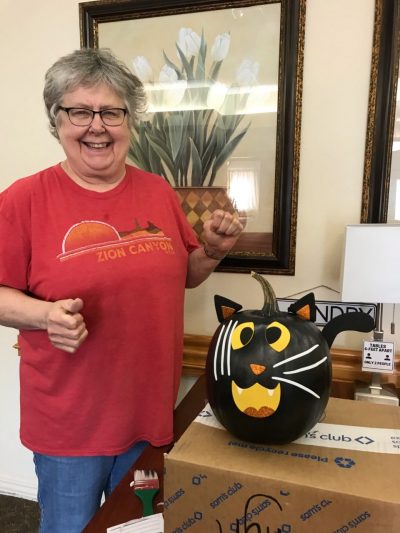 That's Quite A Pump-Cat!!!
Wow, October was fun! We had a scary good Halloween with all of our community members! Everyone dressed up and was a good sport about our social distancing for the holiday.
Halloween wasn't the only big event we had. Our Annual Art Show was a great success, and we loved showcasing our resident-focused, resident created art at Sweetwaters Coffee & Tea. We kept it small and socially distant, but the sense of community was strong! What a great achievement for everyone involved.
We'd also like to give a shout out to our pen pals from ManorCare Health Services – West Des Moines.
On an important note, November 3rd is Election Day. Even if you have already voted or Election Day has passed, we are here to help everyone exercise their right to vote all year round.
"Be present in all things and thankful for all things."
– Maya Angelou
Adopt A New Friend
We foster cats through the Hope Animal Rescue.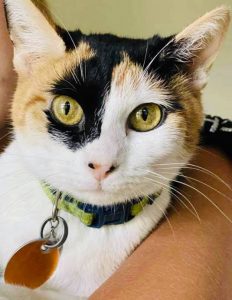 It's Turkey Time!

Handprint Turkeys are a great pastime. You may not have made these awesome little guys in quite some time, but this craft is one of my favorites. Check out how to create these "hand"y birds this season –
Supplies – Construction Paper, Pencil, Craft Scissors, Glue, Marker, Googly Eyes
Take your construction paper and place your hand on it. Trace your hand with the pencil on the paper.
Once you are done, cut out the hand outline.
Glue a googly eye on the thumb to make a head for your turkey.
Decorate your turkey's feathers (the fingers) with the marker.
With the construction paper, cut out feet for your turkey (they can be as accurate or misshapen as you want them to be).
Glue the feet on the turkey.
Optional: We like to write what we are thankful for in the middle of the turkey, but it's your turkey 🙂
We know that our COVID-19 precautions and the restrictions have put a great deal of stress and strain on our lives for some time. While we have much more control over the virus in our community, we know that the winter can bring additional difficulty in managing this national health crisis. As the end of the year approaches, it is essential that we continue to be vigilant and follow guidelines. We are in this together!
Some Ways We Stay Active and Engaged:
Flower Gardening: Hanging baskets with annuals, we dead-head and water.
1:1 Activities
Gardening: We are nearing the end of our growing season. Tomatoes are still going strong! Be sure to check out the blog on our website as we share our experience and advice for purposeful gardening while living with dementia.
Singing & Dancing
Restorative Therapy
Baking
Margaritas on the patio
Reading
Music
Reading & Writing Letters
Manicures, Makeovers, & Hairstyling: The Barber / Beauty Shop is open again! We have missed Brenda the past 5 months. She helps us feel so good by getting everyone in for an appointment
Residents Taking Care of the Babies in Evergreen & Birch
And as always, we are having great conversations together!
Physical Therapy, Occupational Therapy, and Speech Therapy are also still taking place. Please ask a staff member if you have any questions regarding this.

What's Going On This Month
This month brings us the beginning of the winter holiday season. We are sad that the COVID-19 restrictions may keep us from our loved ones. But we know that where there is great love, there is a remarkable ability to stay connected in the hardest of times. Let's make sure to stay safe and stay healthy, but also stay close in the hearts of our loved ones.
Voting Day – November 3rd
Get out the VOTE! Voting is so important, and while you may have already cast your vote, it is essential to remember voting happens more than just once every four years. Now is a great time to stay involved with local and state politics. Your Vote is Your Voice. Don't take it for granted.
Veterans Day – November 11th
Today we celebrate those who served for our country and our freedoms. You probably know a few veterans, and we here at Arbor Springs have the utmost reverence for their service. We look forward to honoring and supporting the many veterans who are a part of our Arbor family.
World Origami Day – November 11th
Origami is the art of folding paper. Crafts are great for memory, and while Origami can be extraordinarily intricate and tightly folded, having tried it myself, I know you don't have to be great at it to enjoy it. Check out some instructions online and read up on Origami's history if you are interested – it is fascinating.
World Diabetes Day – November 14th
"More than 34 million people in the United States have diabetes, and 1 in 5 of them don't know they have it." (CDC) Diabetes awareness and treatment are so important. Take the day today to make sure you understand your risk and how to go about identifying and treating diabetes.
Thanksgiving Day – November 26th
It's that time of year again! A time for friends and family…and food! This is also a reminder that we are still very much living with the COVID-19 crisis. On Thanksgiving this year, it is important to remember the spirit of the holiday and that even if you are apart, it is the strong ties of family and friendship that connect us even across great distances.
Good Nutrition Month
Eating healthy is something we take very seriously. Not only getting enough food but also the right type of food. And eating well is more than just fruits and vegetables. It is careful planning and understanding your body, as well as it's particular needs. This month, commit to understand your nutrition better and work to create the best plan for you!
National Caregivers Appreciation Month
We have celebrated many Appreciation Months in our Newsletters, but this is a special one. It's special because we are all caregivers. This includes our diverse care team, our administrative staff, and even you. We consider everyone who helps out a caregiver. So make sure to say an extra special thank you to anyone who helps care for you or your loved one.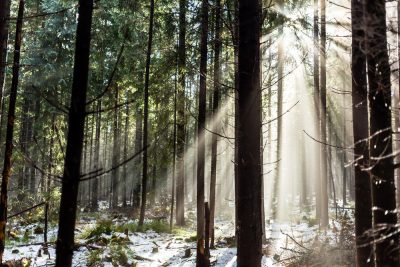 While we are committed to supporting our community, we know the best thing for it at the moment is for everyone to be as safe and cautious as possible. During this time, we encourage you to seek out and contribute to an active support group. Often it's best to just try it and see how it goes. Folks can be surprised by how much their ideas and their presence are beneficial to others. Helping others right now is a wonderful remedy for the helplessness and loneliness we ourselves may feel.
Below is some information about how you can find the help and community you need while respecting the COVID-19 safety concerns:
Celebrating Thanksgiving This Year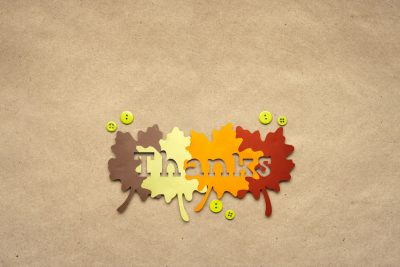 Thanksgiving is a central part of how many families celebrate togetherness and connection. However, many of us are accepting that we may have to be apart from our older loved ones this Thanksgiving.
While we can't wait to share quality time with them again, their health and safety are much more important. Now is an excellent time to take a few minutes and think about how you can celebrate and keep your traditions while being apart. Make the most of this Thanksgiving by just putting in a little extra thought –
Make A Family Video – whether it's a cellphone, video camera, or even just making a slideshow; put together a little video for your loved one.
Send A Card – have each family member sign the card with something they are thankful for!
Set Up A Chair For Your Loved One – make a little area at your dinner table with their favorite things (especially food!) and decorate it to honor them. Make sure to take pictures and share!
Use Social Media Or Chats – live stream your event in a private family Facebook™ or on other social media platforms. If your loved one isn't media savvy, you can always share it with them later.
Do A Video Call – we're all familiar with Zoom now. Hop on your favorite conference calling app and give your loved one a seat at the table.
If your loved one is here with us, please reach out to the community to see how we can help you connect with them this holiday.
COVID – 19: REMEMBER TO STAY SAFE
We know this time is difficult.
We are all in this together…and we are here for you!
Please call the facility directly at 515-223-1135 with questions or concerns.
WASH YOUR HANDS AND LIMIT CONTACT PLEASE!
Happy Birthday! Let's Celebrate Together!
Mary Ellen L. – November 17th
As we begin the holiday season, we would like to take a moment to say one very important thing…
Thank You
With all that is going on, it is so important to thank the ones closest to us and those who help us every day to be our best and healthiest.
The guidelines on this page and in this newsletter are in no way all-encompassing and should not be adhered to if medical professionals or staff members inform you otherwise. We are learning more about COVID-19 every day, so be sure to stay informed at: https://www.cdc.gov/coronavirus