Thankfully we were first in line for COVID-19 vaccinations in Iowa. Many of us in the community have already received our vaccines. However, if you are not first in line or missed your opportunity to get vaccinated here in the community, you must do everything you can to get vaccinated or complete your vaccination course.
To achieve immunity here at Arbor Springs, our goal is to have 80% of our community vaccinated. Unfortunately, some of us have reservations about the vaccine — be it a distrust in the vaccine's development, efficacy, or even its necessity.
Due to this initiative's importance, I'd like to take a moment to highlight some common issues surrounding the vaccine. While you may have already received both doses or have plans to, we must get as many people vaccinated as possible. If you don't find this information relevant to you personally, please share it with someone who will. We are all working together for the safety of our community.
Our goal here is to see the ones we love in more normal circumstances as soon as possible. And everyone getting vaccinated is the key to doing this.
For Our Community Members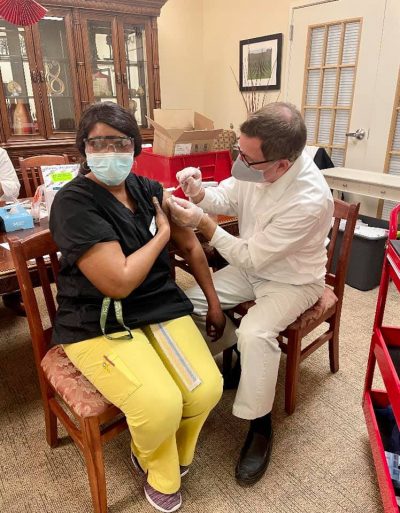 COVID-19 is a reality we face every day. We know that those who live at Arbor Springs understand the seriousness of the situation. Still, I also sympathize with the stress that accompanies the often nerve-wracking process of receiving a vaccination.
I'd like to address some of the more common concerns and attempt to make you feel a little bit better. Even if you've already been vaccinated, we know that completely understanding this process can help you feel more at ease.
Side Effects — while there are some side effects, experiencing them is relatively rare, and the chance that they will be severe is even lower. Also, the expected side effects are no different from those of any other vaccine. Most importantly, they are much less severe than the symptoms of COVID-19 itself.
mRNA — it is important to reiterate that with mRNA vaccines (like the Moderna and Pfizer vaccines), you are not receiving a non-harmful dose of the COVID-19 virus as with some variants of standard vaccines for other viruses. This definitely helped me feel more at ease about everything.
Follow Up — getting a vaccine isn't a fun thing to think about. It doesn't help that you will need to get two shots, possibly every year or so. But it's our job to help you with this. We'll make sure you know when and where you need to get your shots — no need to worry, just ask.
We Are Always Here For You — all of these factors can be scary, but our responsibility is caring for you. We will monitor you every day for any potential side effects and any other issues that may arise.
For Our Caregivers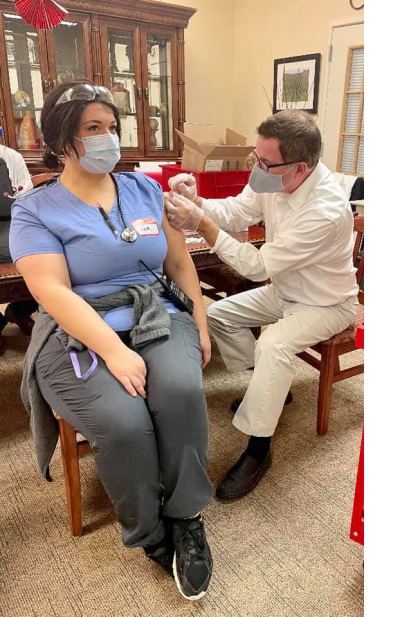 As caregivers, our job is to support and protect our community, but that doesn't mean we can't feel a little overwhelmed sometimes by the vaccination process. However, it is essential that caregivers get vaccinated as well, and I'd like to address a few issues that may be causing you concern or giving you pause.
Why Me? — you may want to wait and give up your place in line for the vaccine. We often feel that others are more deserving, and we do not want to take a dose away. However, you have been selected to receive the vaccine for a reason, and foregoing your spot doesn't necessarily mean it will go to someone else. This is a complicated process, and not getting the immunization assigned to you can cause hiccups in the rollout or even wasted doses.
Why Now? – some of us feel uncomfortable receiving a relatively new vaccine. But remember, you aren't the first one getting it. There have been many trials and tests before you. You are just among the first as part of a national campaign. And every day, more and more people are receiving the vaccination with positive results.
It's Your Responsibility – whatever your reservations, remember, this is your obligation as a caregiver. You are here to care for our community members and their families. This is about ensuring everyone is cared for and doing what's best for those in your care.
You Are A Leader – this is an opportunity to set an excellent example for those around you. You can be a leader in this situation. Get your vaccine and show that others can follow in your footsteps.
For Our Staff
Even if you don't directly interact with community members, it is still essential that you get vaccinated.
Eyes On The Prize – we must reach our goal of 80% vaccinated to achieve immunity. That's 80% of everyone at Arbor Springs, including you!
You Are Part Of The Team – I know it can be scary and seem unnecessary if you are cautious, but we are in this together. We can only get this done as a team. Your work here at Arbor Springs helps people, and doing this is an extension of that core promise.
For Our Family Members and Others
You may not be at the top of the list for receiving the vaccine, but that doesn't mean you aren't an essential part of the puzzle. We will continue many of our restrictions until those outside our community have been vaccinated as well, so be sure to do your part and get vaccinated.
Stay Informed – keep updated on your and your family members' eligibility for receiving a vaccine. Also, make sure you keep updated on whether you will need additional courses of vaccinations. This is still a fluid situation, and information around the vaccine's effectiveness and how often you will need it administered will change.
Remember Who You Are Doing It For – you are doing this for your loved ones. Even if you don't feel at risk, this is to protect the life and health of those you care for most.
We're Counting On You! – we rely on those outside Arbor Springs just as much as those who work and live here every day. You're part of the team too!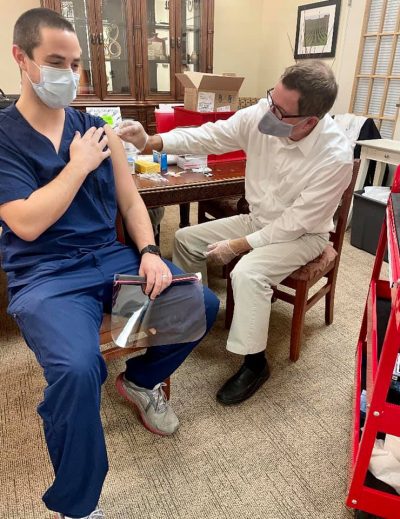 Once you get vaccinated, it is still essential to be safe. We don't know if you remain able to spread the disease once vaccinated. We will all have to keep an eye on this as we learn more about the vaccine and COVID-19 itself.
Please remember that the first dosage only provides around 60% immunity from the virus. It is that second shot that gives you the estimated 94–95% efficacy. It is vital you remain cautious in between your first and second shots. And while the vaccine is extremely effective, it is still only 94–95% so. This leaves a minimal chance that you will be infected, making it crucial for everyone to remain vigilant in these early weeks of the national vaccine campaign.
For Us
It is our responsibility to set a good example and get vaccinated to protect the ones we love. Reaching immunity will drastically improve not only the life of your loved ones but your own life as well. We can do this, but only if you do it with us and conquer the many fears and anxieties around getting vaccinated.
If you have any further questions about vaccinations at Arbor Springs, please don't hesitate to reach out today.