In our last blog, we discussed the basics of what COVID-19 is, how to take simple precautions, and some information about our guidelines for staying safe, as well as the state's response to this crisis. Now, I'd like to share some helpful tips on how to prepare yourself and your loved ones for some of the indirect challenges that may arise during this time.
Specifically, I'd like to talk about how to prepare for and cope with social distancing. The current health crisis has presented a unique challenge for those taking care of a loved one, whether they live with you, on their own, or at a community such as Arbor Springs.
When caring for your loved one, especially if they suffer from memory issues, it is vital to be mindful of the challenges presented by this new reality. Whether they live with you, close by, or in another state, there are many things you can do to help everyone, yourself included, during this crisis.
Coping With Increased Stress
Stress is one of the most common side effects caused by the COVID-19 response. Regardless of how this health crisis is affecting you and your loved ones, stress is a reality you must confront. Acknowledging and dealing with this added tension and its effects is even more imperative for older adults and those suffering from memory loss.
Consistent stress can wreak havoc on your mind and body, causing a host of problems, including:
Anxiety
Weight gain
Depression
Digestive issues
Trouble sleeping
When caring for someone with memory challenges, it is critically important to pay close attention to their stress levels.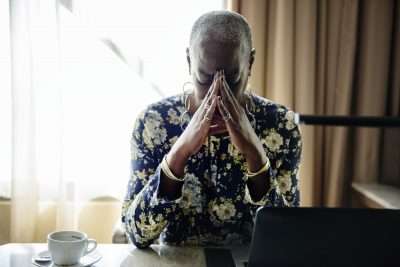 These situations can prove difficult for the healthiest of people, but the added pressure can exacerbate memory issues, particularly in older adults and those who have Alzheimer's and dementia.
Also, don't forget that this is a physiological response. Sometimes, people can't help how they feel or how they react to challenging and disruptive situations. Not all stress can be dealt with by simply having a positive attitude. It is essential to be patient with others and especially yourself.
While everyone reacts differently, there are some common methods of combating stress:
Get enough sleep –5 to 9 hours is the normally recommended amount of sleep. In situations such as these, sleeping enough becomes vital to your health. Make sure you prioritize this fundamental habit.
Eat right – Believe it or not, processed food and sugars can increase issues caused by stress. Try to make food as much as possible. This will increase the amount of natural, unrefined ingredients you eat and improve your body's response to strenuous situations.
Keep up the exercise – Exercise is key to reducing tension. However, it can be difficult when you are social distancing. Here are some great ways to stay active while indoors.

YouTube Videos – Just browsing YouTube, you'll find so many helpful resources and workout routines.
Planet Fitness Facebook Page – Planet Fitness is offering free "Home Work-Ins" on their Facebook page.
Go4Life from the National Institute on Aging at NIH is a great resource for planning your own workouts.
Daily Burn – This is a paid service, but it is an amazing one. It offers workouts at different levels and intensities ranging from yoga, core, Pilates, barre, flexibility and mobility, kickboxing, bodybuilding, general fitness, and so much more. They offer a free 30-day trial that might just be all you need!
If these video workouts aren't your thing or you are having trouble sticking to a schedule, health.gov has built a great tool to get you started – Move Your Way.
Combating Loneliness
Loneliness is an unfortunate reality for seniors during the best of times. During social distancing, it is especially important to be aware of this prevalent issue. It is even more crucial to consider for older folks who live alone. If you are apart from your loved one for health reasons, take steps to help them cope with loneliness.
Here are a few simple ways to help with the loneliness of social distancing:
Stay connected with electronic communication, and keep in touch with them as much as possible. Phone calls, emails, and video messages are great. Try video conferencing, as well, with services like Zoom, Skype, FaceTime, and Google Hangouts!
Make your limited communication as engaging and interactive as possible. The value of face-to-face time and group activities for seniors can not be underestimated. Try doing group video calls, singing songs, and playing games, and remember to always be present. Setting aside your time and attention and getting a little creative with your communication can truly make a difference.
Remind them they are in your thoughts. Many services take your family photos and turn them into keepsakes delivered directly to your loved one. This is a great way to let them know they are not alone. Some of these include:

TouchNote – Create and send personalized postcards right from your phone!
CanvasPop – Have your photos printed on canvas and sent to your loved one. These fantastic decorations look great and help remind those you can't be with you are always thinking of them.
Fracture – This is like the canvas printing service above but prints your photos beautifully on glass.

Remember, we aren't completely shut in! Going outside can be therapeutic and help loved ones feel connected with the world again. If they are able to walk outside the home safely, remind them it is okay to go out briefly as long as they maintain proper social distancing precautions.
Being Properly Prepared and Stocked Up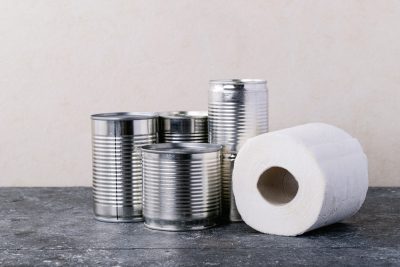 In situations like these, it is a good idea to over-prepare. Whether your loved one is living with you, in their own home, or in a community like Arbor Springs, now is a great time to stock up or send them a care package.
This can be different for everyone, depending on where they are and their situation:
If your loved one is at Arbor Springs or another senior living community, you want to focus more on their well-being than everyday items. The community and staff will provide most of the more practical things they need.
Sending items that can lift their spirits is best, such as a favorite treat, a new book from their favorite author, fun games, and maybe some new photos of family and friends!
If your loved one is living on their own, it is so important to ensure that they have everything required to avoid leaving their home. Send them (or help them properly stock up on):
Food, liquids, non-perishables, and essential nutritional supplements
Medical supplies (it can be worked with their doctor to obtain both necessary over-the-counter and prescription medications)
Cleaning and disinfectant products
Other emergencies supplies
And also send some fun stuff, too! Anything to help pass the time is quite welcomed these days.
Factor in any specific items you think they will need as well. These might be items that are usually easy to restock but may be harder to get given the current strain on supply chains.
If your loved one is living with you, plan to have enough supplies for two weeks in case you have to quarantine. Like the care package above, be sure you have everything you need for every member of your household in case you are unable to leave your home. It is critical to have access to your prescription medication (or the ability to have it delivered).
Try to have backup plans for things like:
Necessary operations
Mandatory doctor visits
Crucial appointments
Urgent legal matters and meetings
While many services are being conducted remotely, essential medical procedures, treatments, and appointments are all still happening. So ensure you are prepared if suddenly you or someone in your household must quarantine.
We Are Here to Help Too!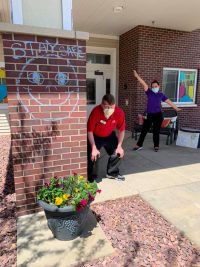 Here at Arbor Springs, it is our goal to be as helpful as possible. Please don't hesitate to reach out if you are having difficulties caring for an older loved one in these stressful times.
Especially when your loved one is suffering from memory issues, the current situation can seem particularly overwhelming. Don't be afraid to ask for help. We are always here to offer our knowledge and build relationships with those looking for answers to their care needs.
Remember to be safe, and always seek out more information from us or other trusted sources. Contact us anytime with your questions.
This is a confusing and challenging time, but together, we can get through it.